Union JACK Radio - Rajar Q1 2018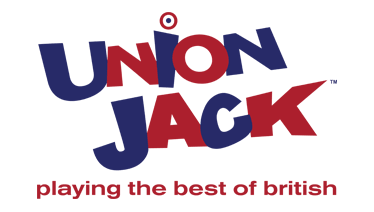 Union JACK celebrates strongest ever RAJAR results
National DAB station 'Union JACK' celebrates its highest ever reach, 491,000 hours* and average listening hours higher than Virgin Radio for a fifth consecutive time.
Union JACK is the antidote to boring & bland commercial radio – and the fact that its three benchmarks shows have seen significant growth, supports that mission.
Topical comedy show "Andy Murray's 15-0 love songs", new music show "Underdogs" and "Geoff Lloyd's Hometown Glory" all see spikes in listening, with weekend and evening listening increasing dramatically.
Friday night will also see Union JACK broadcast a one-off show Live from Prince Harry's Stag Do. It will document Prince Harry (viral impressionist Josh Berry) heading to Wetherspoons, a strip club and gentlemen's nightclub 'Sparkly Danglers'.
Union JACK is going to be the only radio station advertising on the big screens at the Royal Wedding.
'Underdogs' is the nationally nominated new music show, featuring the character 'Lucy Leeds' chatting to new bands about everything EXCEPT their music.
Geoff Lloyd's Hometown Glory sees Britain's best loved comedians (Phil Jupitus, Andy Hamilton & more!) take a trip down memory lane using Google Maps.
Union JACK CEO Ian Walker said "We are thrilled that our brand new radio station Union JACK is continuing to flourish. Weekend listening patterns to Union JACK confirm that our specialist comedy and music programming, led by Geoff Lloyd, Josh Berry and Lucy Leeds are establishing & attracting new audiences. With over 12 million song votes since launch, Union JACK is the antidote to traditional boring homogenised commercial radio".
NOTES TO EDITORS:
About the JACK brand: The JACK brand originated in Canada and established itself quickly as one of the most successful brands in North America. It now attracts over 20 million listeners there. The brand provides an unconventional package with localised targeted music to give the listeners a fun, energising and connective experience.
In 2007, Ian Walker, Donnach O'Driscoll and Clive Dickens brought the JACKFM brand to Oxfordshire, UK. JACKFM is hugely successful in Britain; it is the most awarded local commercial radio station in UK radio history, having received over 40 industry commendations including two for UK Radio Station of the Year. The brand has a younger spin-off, JACK 2 in Oxfordshire. JACK 3 launched in Oxford on DAB in May 2017.
*RAJAR/IPSOS/MORI Q1 2018 15+